How to Choose Hardwood Flooring
October 26, 2023 | By tmbr® Product Expert

Hardwood flooring is a timeless and elegant choice for any home. It's durable, versatile, and adds value to your property. Best of all, you have numerous choices to find the perfect floor for your home.

However, with so many different types of hardwood flooring available, it's often tough to decide which is best. But we're here to help. We'll give you some insights into how to choose a hardwood for your flooring project, from budgeting to maintenance.


Determining a Budget for Your Hardwood
Hardwood flooring represents an investment. After all, it will likely last your lifetime and beyond. So, you need to budget appropriately, as it generally isn't your least expensive flooring option. 
According to Angi, the average cost of installing hardwood flooring is $6 to $12 per square foot. That includes labor and material fees.
 
Typically, flooring costs start in the $4 per square foot range. But they can easily reach and exceed $10 per square foot. Prices vary depending on the wood species, plank width, and finish. They'll also vary based on whether you select engineered or solid hardwood, with engineered generally less expensive. 

Don't forget installation costs when setting a budget; they can tack on another $5 to $12 per square foot. If you're the handy type, you can shave a lot off total costs with DIY installation. Otherwise, it's best to hire a professional installer. 

You'll also want to include a fudge factor of 10% to allow for some waste during installation.  


Engineered vs. Solid Hardwood Flooring
We mentioned solid wood floors versus engineered wood flooring. That's a good start for selecting a hardwood floor.

Solid hardwood flooring is precisely what it sounds like — each flooring plank is a solid piece of hardwood through and through. Planks are typically 3/4″ thick. That thickness allows you to sand and refinish the flooring four or more times to extend its life.

Conversely, engineered hardwood flooring features a layer of hardwood on its top and bottom. Sandwiched between those layers is a plywood or high-density fiber core. So, the flooring is still typically 3/4″ thick, but the top layer of hardwood generally ranges from 2mm to 6mm.  
Engineered Hardwood Offers Moisture Resistance
The downside is that you can't sand refinish engineered wood flooring nearly as often as solid wood. However, engineered hardwood has one upside versus solid hardwood. You can install it at all home levels, from family rooms and bedrooms to your kitchen and basement.

That's because its core provides improved resistance to moisture and temperature changes than solid hardwood. Whereas solid wood expands and contracts when exposed to moisture, engineered wood is more tolerant. As a result, it's less susceptible to high humidity and other moisture concerns.

Plus, engineered hardwood comes with an equally impressive selection of species and styles as solid. You can also install it as a floating floor to make things faster and easier. Solid hardwood demands nailing with its installation. 
Prefinished Hardwood Flooring vs. On-Site Finishing
Prefinished hardwood flooring comes ready to install. Manufacturers apply the stain and protective finish at the plant. You can install the flooring and move back into your room immediately. And there's no mess or fumes to deal with.

On-site finished hardwood is laborious. It requires sanding, staining, and finishing. You'll also need to let the flooring cure before moving back into the room. That takes at least 24 hours and sometimes up to 72 hours.
 
On-site finishing does have the advantage of letting you customize your floors. You can select a precise color and style without limitations. That ability, however, comes at a price in time and labor.
Selecting a Hardwood Species to Fit Your Style
Many different hardwood flooring species are available, each with a unique color, grain pattern, and durability. Some popular species include: 
Oak: Oak is a durable and versatile wood in various colors and grain patterns.  

Maple: Maple is rugged and durable, with a light color and a tight grain pattern. 

Hickory: Hickory is a tough, durable wood with a bold, one-of-a-kind grain pattern. 

Cherry: Cherry is a reddish-brown wood with a tight grain pattern. 

Walnut: Walnut is a rich brown wood with a dramatic grain pattern. 
So, depending on the look you're after, you'll want to pay attention to the species. For example, oak flooring (white and red oak) is a favorite with many homeowners. Its uniform grain fits traditional homes perfectly. 
Conversely, maple's clean, light tones work well with modern home styles. Hickory is a favorite for homeowners looking to capture rustic appeal. 
Your Hardwood Species Choice Impacts Durability
The Janka Rating measures the hardness of types of wood. The higher the rating, the harder the wood. So, look for wood with a solid rating for high-traffic areas. You'll especially want a high Janka rating for flooring that needs to withstand pets and kids.

For instance, red oak has a median rating for floor hardness at 1260. So that's an entry point for durable wood flooring. For extra durability, step up to harder species like white oak (1360), hard maple (1450), or hickory (1820). Avoid softer woods like cherry (995) or birch (910). 

Additionally, make sure the flooring includes a durable finish. Aluminum oxide finishes, for example, are one of the hardest available. They help ward off scratches and minimize daily wear and tear on your floors.
Selecting the Right Plank Width for Hardwood Flooring Installation
Plank width can have a significant impact on the overall look and feel of your hardwood flooring.  

Popular plank widths include:
Narrow: 2.25 inches or less 

Medium: 3 to 4.75 inches 

Wide: 5 inches or wider 
Narrow planks are great for smaller spaces and contemporary interior designs. They create an elongated linear look, making a small room look longer and more formal. They're also a plus in humid climates, as they're less vulnerable to warping or buckling. 

In larger rooms, wide plank floors and light wood can give an airy, open feel. Wider planks also create fewer seams between boards. That embellishes the natural lines and graining of the wood. Wide plank flooring has become a popular trend today. 
tmbr® Flooring Offers Natural Wood Flooring
With tmbr® Flooring, you can select hardwood flooring that captures nature's presence. Our engineered hardwoods reflect the beauty of coastal locations like Big Sur to mountainous expanses like Yosemite.
 
Use our Floor Visualizer tool to find the right hardwood to match your style. Our retail locator will help you find a dealer near you. 
---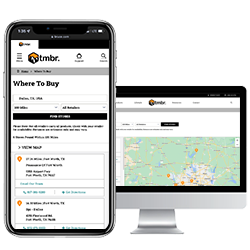 Ready to shop for tmbr® flooring near you?
Use our retail locator to find where you can buy tmbr® engineered flooring products. 
Find a Store